O'Brien Homes Builds Fusion in Sunnyvale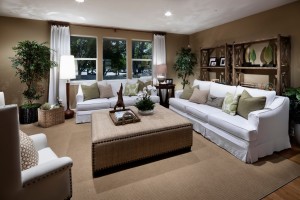 During the heights of the real estate correction in 2009, the City of Sunnyvale suffered a particularly severe blow when the builder of a new townhouse-condo project, John Laing Homes, fell casualty to the crisis and abandoned the project without notice.  This high profile project consisted of 242-planned townhouse-style condos and single family homes right behind the AMD campus on Duane Road.  At the time the project was suddenly abandoned, two buildings had been fully constructed with a total of 10 units completed.  Unfortunately
for those home buyers, they
were left holding the bag on high-priced ($550K-$650K) townhomes in the middle of a bare, almost apocalyptic, 14-acre lot.
Soon, the remaining homes went under court receivership and were initially listed in early 2010 at a "discount" of only $520K-$600K to encourage sales.  When no willing buyers stepped up at that price point, the homes were widely advertised as being put to auction.  After 8-9 months of hype, the auction took place at the Santa Clara Marriott where it seemed every novice real estate investor turned out for the spectacle, along with a few serious buyers.  The lines waiting to get in were 500 deep.  I didn't stay for the actual festivities and could only imagine how many were present as each had to go through a length pre-approval process with the preferred lender, BofA, to even qualify to attend.
By early 2011, the dust had cleared from the auction and a few units were still available.  Apparently, the bids weren't high enough for the lender even though 2 bedroom units were selling at a pretty steep $500K range, considering those buyers had to make a highly speculative bet that a promised new builder would come through.
Finally, by May 2011, O'Brien Homes broke ground on the previous John Laing Homes site and started construction of similarly styled, but not identical, townhomes.  Construction on the finished site proceeded quickly and residual demand from the big auction promotion was still at a fever pitch.  The first few units sold out almost immediately.  By the end of July, they were selling out of the last units in their first phase.
The floor plans and build quality were typical and familiar for townhouse-style condos.  Some of the units facing Duane Road were being offered at rather significant discounts of $40-$60K.  Meanwhile, individual units inside the community were priced seemingly arbitrarily, depending on location.  With a very affordable starting price of $419K for a 2-bedroom, 2-bath unit with a tandem garage, the units were priced lower than other similar developments in Sunnyvale.  Only a few older condos were priced similarly, making them extremely attractive values.
As construction of the second phase proceeds, my clients await the completion of their unit.  With five other phases planned, numerous opportunities are available for buyers to get great deals over the next 2 years.  As always, I recommend approaching the purchase of one of the units with an experienced Realtor who can show you how and when to get the best deal.
You can follow any responses to this entry through the RSS 2.0 feed.
One comment on "
O'Brien Homes Builds Fusion in Sunnyvale

"
Leave a Reply